Iconic Canadian footwear offers lessons for exports of Indigenous products
Among the iconic Canadian products that were featured during London Fashion Week last autumn, one company was there to tell a compelling story of tradition and sustainability.
Manitobah Mukluks was one of the unique brands that turned heads at the Celebration of Canadian Design event held by the High Commission of Canada in the United Kingdom. Represented there by Waneek Horn‑Miller, a Mohawk athlete and company spokesperson, the Indigenous‑owned company has become a symbol of excellence in entrepreneurship and capacity‑building.

Janice Charette, the Canadian High Commissioner to the United Kingdom, talks to Prince Harry and Duchess Meghan as she and her social secretary Joanne Raggett present the couple with a baby gift that includes a pair of Manitobah Mukluks Infant Scouts made of deer skin.
(Photo: High Commission of Canada to the UK)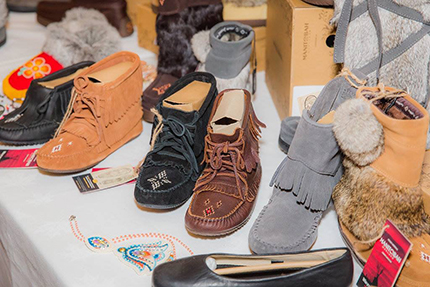 The Canadian Design Showcase held during London Fashion Week featured an array of Manitoba Mukluks products.
(Photo: Darren Bandoo)

Waneek Horn‑Miller (middle) with her mother and daughter
(Photo: Tomas Karmelo)
"We have a product that keeps people super warm, that's functional and beautiful and that supports Indigenous people and communities," says Tara Barnes, vice president of marketing for the company. The world's leading manufacturer of modern mukluks ("the world's first winter boot," she calls them) as well as moccasins, Manitobah competes against footwear giants such as Ugg and Sorel Boots. With the assistance of the Canadian Trade Commissioner Service (TCS), today 15 percent of its sales are abroad in retail outlets in the United States, the UK, Greenland, France and Germany, she says, as well as through ecommerce in some 40 other countries such as Russia, Sweden and Japan.
The success of Manitobah offers lessons for Canadian companies selling Indigenous products and other unique goods and services abroad.
Barnes says the company currently has annual revenues of $30 million and it has been reported among Canada's top 500 companies for growth in the last five years. Its footwear is sold across Canada through major retailers as well as in seasonal pop‑up shops, where mostly Indigenous sales people can tell potential buyers about the company, its origins and its products.
To expand exports, the company looks for international agents and distributors who are "familiar with working with iconic branks like ours," and it especially uses the TCS for connections and networking. "Trade commissioners are so essential; they offer an additional level of storytelling and support," says Barnes, noting that the company particularly focuses on "countries where they have winter." Horn‑Miller, who played water polo on Canada's national team at the Pan American Games, winning gold in 1999, and was the first Mohawk woman from Canada to compete in the Olympic Games in 2000, acts as an ambassador at trade shows and events. "Wherever Waneek goes, people listen to her," Barnes comments.
Based in Winnipeg, Manitobah currently has about 250 employees, some of whom are seasonal given its main product. Half the staff are in Canada and 70 percent of those are Indigenous, working increasingly in fields such as brand management and customer service. The other half are in Vietnam, where the company co‑owns a new expanded manufacturing facility just outside of Ho Chi Minh City that mass‑produces 85 percent of its products, based on traditional designs.
Manitobah gives back to the community by training Aboriginal people in commerce and business skills, Barnes explains. "That's the kind of work where we're trying to build capacity, not sewing on the sewing‑room floor."
Meanwhile the not‑for‑profit Manitobah Mukluks Storyboot Project helps elders and indigenous artisans preserve the art of making traditional moccasins and mukluks. Storyboot Schools teach the art-form to young Aboriginal students across the country, and Storyboots made by artisans are sold at premium prices online.
One of the early well‑known enthusiasts for its mukluks was Britain's Prince Harry, who Barnes says bought a pair of the company's Tall Wraps as a gift several years ago. When he and Duchess Meghan came to visit the High Commission before the birth of their baby Archie earlier this year, they were given a gift of iconic Canadian items that included a pair of Infant Scouts made of deer skin. "We can't wait to see them being worn," Barnes says.
Being in the UK for London Fashion Week last autumn was a good opportunity to meet potential new customers, she notes. The flagship Canadian event, held on the margins of Fashion Week, is called Celebration of Canadian Design and is staged in collaboration with the Toronto Fashion Incubator and the City of Toronto. The evening showcase presents Canadian fashion companies and their collections under one wider "Canada" brand to some 150 buyers, influencers and top fashion press, says Allison Goodings, the trade commissioner for creative industries at the High Commission of Canada in the UK.
A Celebration of Canadian Design
The High Commission of Canada in the United Kingdom, in partnership with the Toronto Fashion Incubator, is seeking applicants from Canadian women's ready‑to‑wear apparel, accessory designers and gender‑neutral apparel or accessories designers to participate in the A Celebration of Canadian Design event taking place during London Fashion Week, September 12‑13, 2019.
Please contact Allison Goodings for more detail. Applications close on July 2, 2019.
She says that Manitobah made quite an impression among the 13 fashion companies there, but patience and perseverance are key. "We make sure our clients know that it often takes several showings and visits to the market to make a sale," Goodings says. "London is an incredibly competitive fashion market, where brands need to show that they are unique and authentic, as well as of excellent quality."
The authenticity of Manitobah's products is key to the company's success at home and abroad, says Goodings, who's a "huge fan of Manitobah and the work that they are doing," indeed she has visited the company in Winnipeg.
"Manitobah's products are not just a fashion item, but a story, and it's this story, and the history of the product, that makes it so compelling," she says, noting that many journalists were looking to tell that story at London Fashion Week. "Providing Manitobah with the right platform to talk about its product—where it comes from, how it is made, and the story behind it—is critical."
Barnes says the company's biggest challenge globally is brand awareness, so it looks to get a "strong engagement and strong emotional connection" with customers, even in Canada, which she hopes "bleeds out internationally." This means "telling our story," for instance through "touch‑point" training of sales people as well as including the company's story and website information on its boxes.
She says that one of the company's strategies has been to branch into new variations of its basic design. For example, it has developed waterproof boots that have become big sellers in places such as the UK, where people don't need the warmth of the heavier fur‑lined versions.
From trading post to global trade
The story of Manitobah Mukluks dates to the dawn of the North American fur trade in the 1600s and the birth of a new people in Canada, the Métis. Artisans from that community created handmade clothing and footwear to sell to new markets, however the tradition declined through the generations, as such goods became mass‑produced. Sean McCormick, a Métis entrepreneur from Manitoba whose ancestors had worked the trap lines around The Pas, opened a trading post in Winnipeg in 1993, trading tanned hides and furs for handmade moccasins created by Indigenous women in the area.
McCormick launched his first company, Blue Moose Clothing Co., in 1997, selling items through gift shops and select retailers. When a photo was published in a magazine of supermodel Kate Moss wearing a pair of the company's mukluks in 2004, the brand took off. With more celebrity fans, including Cindy Crawford, Megan Fox, Jessica Biel, Justin Timberlake, Shailene Woodley, Gwen Stefani, Prince Harry and Sophie Trudeau, the company brought in new investors as well as partners, and in 2008 it was recast as Manitobah Mukluks. The focus was now on the footwear market and there was a new marketing and distribution strategy, with word‑of‑mouth, social media and escalating sales online, where it could tell its authentic story directly to consumers.
A big part of that is McCormick's ancestry and his goal to give back to the Indigenous artisans who helped him start the business. The company stresses sustainability as well as the fact that it is keeping Indigenous culture alive, with a vision to build a vibrant, global brand that makes an impact in Indigenous communities.
Source/ author: Government of Canada/ Trade Commissioner Service
Date Modified: